Gallery
FMTY Events | Photos from Summer 2018 | Farafenni, The Gambia | Farafenni General Hospital | Reproductive and Childhood Health Clinic
Blanket Making at the University of St. Thomas
WHO WILL GET YOUR DONATIONS?
Giving FMTY onesies that were donated from the University of St. Thomas to mothers before they were discharged from the hospital. Many women will come to the hospital for labor without clothing for the child and will leave with nothing but a cloth of fabric she brought from home. Donations like gently-used clothing, hygiene products (e.g. pads, baby diapers, wipes), and anything essential for the mother and baby are needed.
A MANDINKA NURSE.
One of the brightest and funniest nurse I have met. Every morning she comes to work dress in her tribe's traditional clothing. Then, all of a sudden you will see her transform into the Farafenni General Hospital uniforms and she is ready to work.
THE REPRODUCTIVE AND CHILDHOOD CLINIC STAFF.
They are the true pillars of this department. They are actively combating the prevalence of malnutrition, malaria, and pneumonia. Also, providing antenatal care and family planning.
FARAFENNI GENERAL HOSPITAL, FARAFENNI, THE GAMBIA.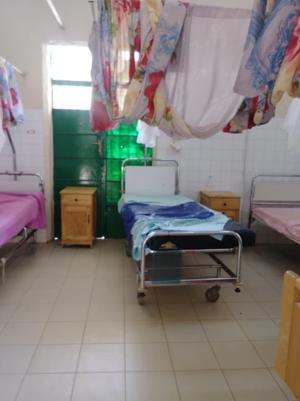 HERE IS THE MATERNITY WARD.
These are the beds the women will give birth on, thin curtains provide privacy, while natural air and sunlight prevails through the room. We are accepting donated hospital beds and linen that are more comfortable for women. They deserve to bring a child into the world in an environment that is most comfortable.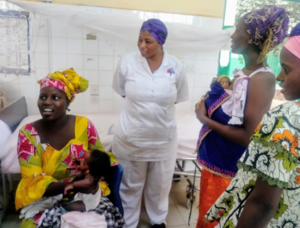 KANGAROO MOTHER CARE.
The hospital does not have any working incubators. Due to the lack of this resources, many of the nurses and midwives are trained to initiate a 20-hour a day skin-to-skin contact between the newborn and mother. This image of two mothers showing the positive results of caring for a premature newborn. The mother in yellow; after 8 weeks of KMC, the child went from 0.9kg (2 lbs!) to 3.0kg (6.2lbs). The mother to the right was only been managing through her stress, but after seeing the baby on the left it gave her hope and motivation to stay strong so her child too can grow healthy.